Dry Run Speed:
40cycles/Min Max.
Film Thickness:
0.2-2.5mm
Suitable Material:
PP PS Pet PVC
Production Range:
Cup,Lid,Container, Clamshell and Tray
Automaticity:
Forming, Cutting, Stacking and Conveying
Transport Package:
Plastic Film with Anti-Rust Oil
Specification:
8500*2600*2200mm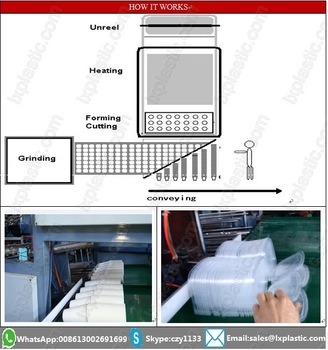 Brief
By taking advantage of tilting movement of the forming table,  stacking directly and precisely from mould, Tilt-mold  thermoformers   produces plastic disposable cups, containers , lids, and trays etc. completely automatically with forming, cutting, stacking ,counting, conveying ,packing  and scrap grinding in one operation cycle
esign Feature
.Pick-up cup stacker , Brush type stacker and 6axes robot stacker at request with Tilt-mold  thermoformers  .
. Achieving 40cycles/min with reliable Germany-4-cam-system driven by Servo
.Servo Plug assist minimizing energy consumption and improving quality of items
.Precise index accuracy utilizing servo drive system, minimizing plastic scrap
.Accessing to all digitalized functions by pressing touch screen
.26 individual controlled temperature zones ensures precise temperature accuracy and easy operation
.Cam-controlled drive technology ensures 100% precise repetition of each cycle
.Independent electric cabinet avoiding damage caused by any vibration
.Automatic central lubrication and chain oiling  
.Sheet Anti-sag on oven
.Highly stressed parts are of very robust design, with casting of forming tables  
.Little maintenance effort required and long intervals between maintenances
.Most of Components are from multi-national suppliers assures a reliability and worldwide compatibility
Useful Optional Items for Tilt-mold thermoforming machine
In-line Grinder with cyclone
Traveling crane for easy tool-change
Auto Cup packer
PP Pre-heater
 
 

 

 
 
  T
ooling
for 
Tilt-mold  thermoformers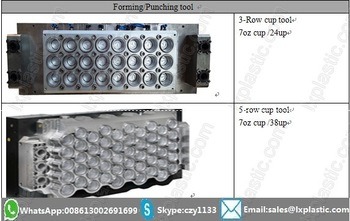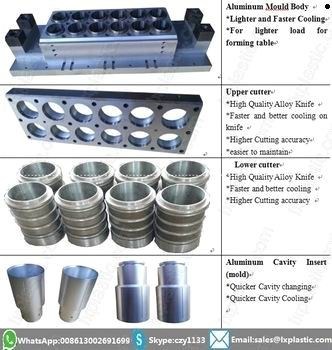 In plastic products factory, people are accustomed to call Open Mixer Mill a two-roll machine.The mixer is a kind of mixing plastic equipment which is used in the production plant of plastic products earlier.

Open Mixer Mill
Open Mixer Mill,Rubber Mixer Mixer,Open Type Mixing Mill,Rubber Open Mixing Mill
Jinan Power Rubber Roller Equipment Co., Ltd. , http://www.powerrubberroller.com