In the 2010 First Financial and Green Medal Awards event announced recently, Cummins was selected as the " Green Technology of the Year Award" for its innovative environmental power technology and sustainable business philosophy. Altogether 18 companies and non-governmental organizations including Cummins , IBM, BASF, and the Nature Conservancy Association were selected as the "Green Medal Award". They were honored with the annual Green Technology, Annual Green Management, Annual Green Product, Annual Green Marketing, and Annual Green Public Welfare, and Annual Green Enterprise Awards.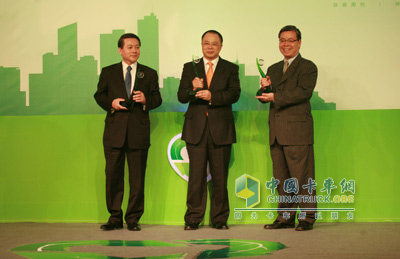 For Cummins's " Green Technology Award of the Year," the awards given by the First Financial Daily's jury are:
"Cummins, which focuses on sustainable development in the future, has always been a leading company in the field of emission reduction technology research and development. Because of its relentless pursuit of environmentally friendly technologies, Cummins has achieved significant results in reducing greenhouse gas emissions with customers and end users. From the end of 2005 to the end of 2009, Cummins achieved greenhouse gas emission reductions of 167,000 tons."
Cummins has been leading the industry in cutting-edge research and development for emission reduction technologies, focusing on future sustainable development in technology and product planning and planning. For example: Cummins emissions solutions that meet today's most stringent environmental regulations are based on technology plans established in the 1990s. Cummins's goal is very clear, that is, to provide environmentally friendly and efficient products and technologies, not only to meet emission requirements, but also has strong power, good fuel economy, and low operating costs. Leveraging its leadership in in-cylinder combustion, fuel systems, air handling, electrical controls, filtration and aftertreatment systems, Cummins provides its customers around the world with the most suitable emission control solutions for different market needs.
Technological innovation also reduces carbon dioxide emissions while enabling customers to achieve better fuel economy. It is because of the relentless pursuit of environmentally friendly technology that Cummins, together with customers and end users, has achieved significant results in reducing greenhouse gas emissions. From the end of 2005 to the end of 2009, Cummins achieved a greenhouse gas emission reduction of 167,000 tons. As for the greenhouse gas emissions of engines sold by a single engine, it has decreased by 19.4% since 2005.
At the award site, he was asked about changes in environmental factors in corporate decision-making. Liu Xiaoxing said: "Environmental factors have become a key force influencing corporate decision-making. This is not only the responsibility of the company as a member of society, but also its own business. An important prerequisite for sustainable development is that low-energy, low-emissions, environmentally friendly power will have its core competitiveness – because it not only meets the needs and expectations of the general public, but also increases with the increasing environmental standards and enforcement efforts. Only products that meet the requirements of laws and regulations can be successful in the market, and products that fail to meet environmental requirements will be abandoned outside the market. Therefore, the development of environmental protection technologies and products is also in line with the company's own economic interests."
Escalator Safety Skirt Brush,Kone Escalator Step,Escalator Parts
Yuanqi Elevator Parts Co., Ltd. , http://www.cnelevatorparts.com