At the 9th China International Combustion Engine & Components Exhibition held on November 29, 2010, Yuchai displayed its own series of engine products both inside and outside the industry. The YC6K series of diesel engines with the gold displacement engine are particularly eye-catching.
According to reports, the Yuchai 6K series engine is positioned in a world-class high-level engine and has been produced in small batches. It has also cooperated with China International Marine Containers (Group) Co., Ltd., and customer feedback shows that the 6K series engine has performed very well. The YC6K series engine currently has 12.2 liters of 6K-12 and 13 liters of 6K-13 two displacement models covering 400-520Ps and 400-560Ps respectively, with maximum torque of 2200Nm and 2500Nm, and a maximum speed of 1,000. -1500rpm.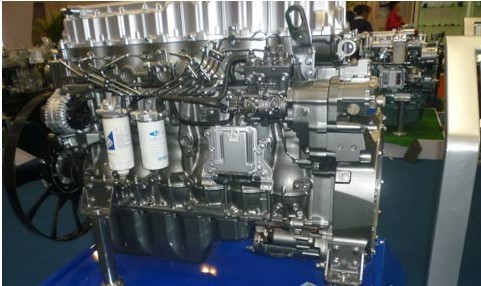 YC6K series engines are located in heavy-duty trucks with a capacity of 32 tons or more and luxury passenger cars with a height of more than 12 meters. In order to make the 6K engine more internationally competitive, Yuchai's R&D team applied many advanced technologies to this series of engines. Such as high pressure common rail + SCR + US JOCOBS cylinder braking system, four-valve overhead camshaft design, integrated cylinder head, cooling cylinder head and then cool the cylinder's new cooling concept, and modular symmetry cylinder.
The advantage of Yuchai 6K series engine is that it adopts a rear-mounted gear design. The operation noise is small, and the driver is not troubled by noise pollution. It is very user-friendly. In addition, the emission of 6K series engines is the starting point for the National IV, which is a low-carbon green product. In terms of fuel consumption, it can save 1-2 liters of fuel compared with similar horsepower products, which is very much in line with the current national policy of energy conservation and emission reduction. At the end of 2010, the YC6K series of small-scale choppers produced in small quantities in Wuhu have been exposed. In 2011, this series of engines will be mass-produced and put into use.
Known as China's Green Power Capital, Guangxi Yuchai Machinery Co., Ltd. has been a leader in China's internal combustion engine industry for more than half a century's unremitting efforts. Its engine products include automotive, marine, construction machinery, and agricultural machinery. Power generation equipment, diesel power and other six major categories of 22 major series of more than 2,000 varieties of light, medium and heavy multi-cylinder diesel engine, power coverage of 6 ~ 25000 KW, forming the most abundant and complete diesel engine genealogy.
Tire Valve Accessories includes tire valve cores and full range of tire valve caps, such as valve core #9200, plastic valve caps, copper caps and colored aluminium valve caps.
Tire Valve Accessories
Ningbo Heyu Tire Repairs Co., Ltd. , http://www.wheel-weight.com