"Made in China" is experiencing an unprecedented crisis and the second round of closures may have come.

In the past decade or so, China Made has come to the forefront of the world with the "MadeInChina" logo. At present, "Made in China" is experiencing an unprecedented crisis, and the second round of closures may have come.

HSBC Holdings and Markit jointly announced that China's manufacturing purchasing managers' preview index (PMI) fell to 49.2 in April from 49.6 in March, hitting a 12-month low.

A PMI above 50 means expansion of manufacturing activity, and a value below 50 means that manufacturing activity has shrunk. The above data shows that the manufacturing sector of the Chinese economy may be accelerating.

Markit economist Annabel Fiddes said that China's manufacturing output has only increased slightly, and the total number of new orders has dropped for the second consecutive month. The input and output price indices both accelerated, indicating that the deflationary pressure in the manufacturing industry has increased, highlighting the relatively weak demand situation.

In the near future, China's manufacturing industry is facing another round of bankruptcy. There are companies that cannot keep up with the technology and invest too much in the early stages, causing the capital chain to break. Companies that can't stand the rapid rise in the cost of their labor, have closed down, and are trying to transition. Upgraded but no successful company.

According to public reports, Panasonic, Daikin, Sharp, and TDK all plan to further promote the move of manufacturing bases to Japan, and world-renowned companies such as Nike, Foxconn, Clarion, and Samsung have also accelerated their withdrawal from China.

A survey released by the European Chamber of Commerce in China last year showed that the proportion of European companies laid off in China in 2013 rose from 10% in 2012 to 16%; in 2014, 24% of companies cut costs in China, up from 22% in 2013 And layoffs are just a routine option for foreign companies to reduce costs in China. According to data released by relevant organizations in South Korea in November last year, South Korean companies that managed to manage Huaxin were 2,294 in 2006 and 1,301 in 2008, reduced to 901 in 2010, and reduced to 817 in 2013 and further sharpened in the first half of 2014. Reduced to 368. This data has reduced by nearly 90% since 2006.

A report released by the Boston Consulting Group in February 2012 stated that 37% of companies surveyed by 106 U.S. companies with annual sales of not less than 1 billion U.S. dollars said they are considering or planning to manufacture some of their manufacturing operations. Move back to the United States.

Dongguan is a sample area of ​​Chinese manufacturing. A local manager in foreign trade said that the withdrawal of foreign capital from Dongguan and the closure of the company began in 2008. This year's situation is particularly bad. It used to be that processing companies moved to inland provinces and now they moved to Vietnam and Southeast Asia.

According to local rumors, "At least 4,000 companies have closed at least in the past year or so", but this claim has never been confirmed. In the five years prior to this, that is, from 2008 to 2012, the public figure was that "7.2 million companies were closed."

According to the Economic Observer, statistical data show that since 2013, electronic instrumentation manufacturing, textiles, footwear, plastics, and metal products have accounted for 44.1%, 11.8%, 7.6%, and 7 of the total number of closed down companies in the city, respectively. %, taking up 70.5% of the total.

It seems that there is a fundamental difference between this round of closures and the closure of the financial crisis in 2008.

"In 2008, the failure of foreign trade enterprises that had been filled for the past three years was more affected by the contraction of foreign demand, which was a market reason," said local expert Ken Jiayong in Dongguan. "This round of bankruptcy is more of an industrial factor. The industry base on which the traditional foundry factories are based no longer exists."

The famous brand strategist Li Guangdou wrote that the market is developing in a cycle of continuous supply and demand, as well as manufacturing.
"From the perspective of supply, supporting the development of the manufacturing industry is labor, capital, and total factor productivity; from the perspective of demand, supporting the development of the manufacturing industry is driven by investment, consumption, and net exports. Now that the manufacturing industry is in crisis, the situation is very large. It is the change in supply and demand."

The article points out that from the supply side, first of all, there is a shortage of labor supply, and now China's labor force is no longer comparable to previous years. At present, China's labor force population is showing a decreasing trend. The population aged 15-59 has shrunk from 660,000 to 945 million people from 2011 to 2012, and the number of working-age population has fallen by 5.6 million from the peak in 2011 to 2014.

The decline in the labor force will affect the supply of labor, the lack of labor supply, the increase in labor costs, and the high cost of labor has become a major cause of business development.

From the demand side, China's loose monetary policy in the past has brought about a serious problem of high investment ratios. According to statistics, China's fixed asset investment accounted for 46.1% of GDP in 2012, which is significantly higher than the world average of 23.8%. Investment stimulates demand, but also stimulates the development of the manufacturing industry, but extensive, focusing only on the quantity and size of the product, while ignoring the quality of the product, the production does not pay attention to technology, does not pay attention to the development of innovation, and in turn will affect the enterprise can not Well meet the demand.
Take Jilian Technology as an example. The company's joint construction technology has expanded its production equipment based on Apple's sales growth prospects when it is processing products for Apple. However, these devices are mainly used in iPhone4s' previous models.

Since Apple introduced the iPhone 5 and iPhone 6 with thinner screens last year, the products of the joint technology could not be adapted, and Apple eventually eliminated the supplier because of its backward technology, low yield, and high cost.

According to Yao Jingyuan, a special researcher at the State Department's Counsellor's Office, the problem with Chinese manufacturing is that it is big and not strong.

"Our machines account for 38% of the world's production, but our high-end CNC machine tools basically rely on imports. We have the world's largest steel output, but the high-tonnage cranes' wire ropes at the port terminals have to be imported. Our aluminum production is the first in the world. However, we have to import aluminum from aircraft. We give each person an average of 3 sets of half a year clothes, but such large exports are basically branded."

For example, Yao Jingyuan said that a significant portion of Apple's mobile phones are produced in China. "And for every Apple cell phone we produce, 49% of the profits were taken away by the United States. Japan took away more than 30% and South Korea also took away A dozen, left us China took 3.63%.

In other words, low-end manufacturing and foundry companies are losing the soil for industrial development. This is enough to create a warning bell for Dongguan manufacturing and even China. They are faced with changes in the industry and are a challenge to human resources, land and other factors that completely change the environment.

Gong Jiayong called this phenomenon the end of the "free rider" era. In the past few years, low-end processing and manufacturing contributed to the original accumulation of China's economy, but it also consumed a large amount of cheap labor, land, and the environment. In his view, the current manufacturing industry has reached the stage of buying tickets.

Gong Jiayong said, "This ticket may be technology, innovation or other, but for a large number of processing and manufacturing enterprises, they must find new ways to contribute to the Chinese economy, otherwise, the short-term warming of foreign trade is likely to be their last bus. ."

In fact, China's manufacturing industry has developed for so many years, most of which still remain at the lowest end of the industry chain. We don't say much about profits, and product technology cannot keep up with market development. There are many phenomena at home and abroad that show that manufacturing companies are not willing to spend their capital to transform and upgrade, they have to face the nightmare of failure.

Under the combined influence of various domestic and international factors, the downward pressure on Chinese manufacturing is indeed not small.
Experts pointed out that although the comparative advantages of traditional manufacturing industries have been attenuated, it is not necessary to rely on their own merits. By changing the way, adjusting the structure, and promoting reforms, China is forming a new competitive advantage. As long as manufacturing companies fully implement innovation-driven strategies and unswervingly promote industrial restructuring and transformation and upgrading, as long as the development of the manufacturing industry opens up a broader market space, it will be able to seize the opportunities in the future.

Yao Jingyuan, a special researcher at the State Department's counselor's office, believes that in the new normal economic situation, innovation is the driving force of economic restructuring.

He said, "In the past, we were basically at the end of the international industrial chain in the international division of labor, and lacked independent intellectual property rights, OEM production, and earning meagre hardships. Now we have to constantly improve our core competition through internationalization. force."

Yao Jingyuan believes that the era of low cost is over. If China's manufacturing industry wants to gain the right to speak in the global market, it must be brave enough to transform and upgrade, promote the structural adjustment of China's manufacturing industry, improve innovation capabilities, and shift from relying more on traditional advantages to new advantages in the past, technological advantages, and technological advantages. , High-quality labor advantages, and the overall supporting advantages of the entire society, "Only in these areas, we can see more Chinese brands in the international big brands." Yao Jingyuan said.

Zhu Keli, executive president of the Zhishi Economic Research Institute, said that it is difficult to rely on these low-end factories for the upgrades made in China. The government has already done a good job in the low-end processing and manufacturing industries. The elimination of a group of enterprises is both an endogenous market demand and an intentional government guidance.

In July of last year, when the current round of factory closures was getting worse, Yuan Baocheng, the mayor of Dongguan, publicly stated that Dongguan's development must not leave the manufacturing industry. To keep this "root", just keep this "root" and build on the foundation of the manufacturing industry. The industry chain can exist.

Dongguan's plan is to use machines to replace labor that is increasingly expensive, the "machine substitution plan". Dongguan plans to spend 200 million yuan each year to support SMEs to carry out technological transformation. This is also a path to Dongguan's manufacturing upgrade.

The effect is obvious. The data shows that in the first three quarters of 2014, Dongguan's industrial investment in technological transformation has been operating at a low level with a minimum of -19.3%. Since the implementation of the "machine substitution" action plan, the decline in investment in industrial technological transformation has gradually narrowed. The year-on-year increase of 28.6% resulted in the smooth realization of "plus-minus".

There are two implied conditions for such an upgrade. Some government officials stated that "on the one hand, there are certain conditions for the scale of business operations, and fiscal policies will specifically support enterprises with an operating income of 50 million yuan or more; on the other hand, large employees will, in principle, demand faster machines to replace labor."

In fact, the limitation of the enterprise's strength is also a key condition for whether it can carry out the "machine substitution" transformation.

The results of a sample survey released by Dongguan show that the more powerful companies are, the more obvious the trend of "substitution by machinery" is, and the survey sample survey results also show that the biggest obstacle for enterprises to implement "machine substitution" is the funding problem and has not been implemented." Nearly half of the more than 150 sample companies with machine substitutions were suspended due to the large amount of funds required. From the industry point of view, the two pillar industries of electronic information manufacturing, electrical machinery and equipment manufacturing have the largest number of projects, accounting for 33% and 37% of the total respectively. In the characteristic industries, the largest number of projects are in the packaging and printing industry. 6% of the total.

"There is a strategy of upgrading manufacturing in Dongguan. There are nearly 300,000 small and medium-sized enterprises in Dongguan. It is impossible for every one to carry out machine transformation. This is unrealistic, and there will certainly be a group of companies exiting." There are scholars close to the government. Analysis said.

For Dongguan, an attempt to transform itself into a high-end manufacturing industry, the emphasis on "people" may be a key part of the process that cannot be ignored. This is the evolutionary road made in Dongguan.

After the financial crisis in 2008, the whole manufacturing industry in Dongguan was hit by a collective crash. The pressure of appreciation of the renminbi, the rising awareness of workers' rights, and the gradual improvement of the social welfare system are all reshaping the ecological soil of the manufacturing industry.

The external business environment has been changing rapidly. In those days, the preferential policies and manpower costs that they depended on to survive and grow were the quagmire to which they were trapped.
"Whether it is the government's policy or the strength of the market, the living space for SMEs and the low-end labor force has been depleted," said the above scholars. "It sounds a bit cruel, but it is a must for China's manufacturing industry to upgrade." step".

In fact, the space for improvement in manufacturing in China is still quite large. Financial writer Wu Xiaobo recently returned to Japan to attend the annual meeting and wrote an article entitled "Go to Japan to buy a toilet lid." He mentioned that the middle class in China went to Japan to buy rice cookers, hair dryers, toilet seats, mugs, ceramic choppers, etc. commodity. Why do these products, which sounded like they existed in the era of "Industry 1.0", sell big because they are more intimate and more useful: rice cookers can make crystal-grained rice, hair dryers make hair dry and silky, and even toilet lids. Can make people feel like spring breeze.

Wu Xiaobo's article is not intended to promote rice cookers and toilet lids. He is more concerned with how China's manufacturing industry faces the transitional dilemma. In his view, the "post-for-tech" post-development strategy pursued by "Made in China" has lapsed. Only by seeking technical innovation can China seize the last kilometer made in China.

In his article, Wu Xiaobo analyzed the current pains faced by Chinese manufacturers: the loss of cost advantages, the collapse of channel advantages, and the transformation fear of "waiting for death and changing for death".

From Wu Xiaobo's point of view, everything from rice cookers to toilet seats belongs to the so-called traditional industries. However, whether they are "naked and unprofitable" or not profitable depends entirely on the innovation of technology and ideas.

In this sense, there is no industry of the setting sun, but only the enterprises of the setting sun and the people of the setting sun. Both the domestic market and the international market rely on cost advantages.

The troubled manufacturers must strive for technological innovation, expand the quantity to the qualitative breakthrough, and seize the last kilometer made in China. The backbone of rational consumption - the middle class can no longer go overseas to buy a toilet lid, this is the "Made in China" tomorrow.

In March of this year, the Chinese government proposed the "Made in China 2025" strategic plan for the manufacturing industry for 10 years. This plan puts forward the strategy of creating a "three-step" three-decade plan for the building of a powerful country. At the end of the 100th anniversary of the founding of the People's Republic of China, it must establish the ambitious goal of building a powerful nation.

This is the top-level design made by the Chinese government for the transformation and upgrading of the domestic manufacturing industry. It is obviously an industrial 4.0 strategy proposed by Germany and triggered by the global industry.

The concept of Industry 4.0 proposed by the German Federal Ministry of Education and Research and the Federal Ministry of Economics and Technology at the Hannover Messe 2013 means that following the three industrial revolutions of the application of steam engines, large-scale production and electronic information technology, humanity will usher in the integration of information physics. The system (CPS) is based on the fourth industrial revolution marked by the production of highly digitized, networked, and machine self-organized.

According to Huang Pei, Editor-in-Chief of e-works, Industry 4.0 emphasizes "smart factory" and "smart production". Its essence is to achieve high integration of information technology and automation technology, aiming to maintain the global manufacturing competitive advantage of German manufacturing.

In this environment, China's manufacturing industry is facing unprecedented challenges. High-end manufacturing is returning to developed countries, and low-end manufacturing is shifting to low-cost regions.

At present, in the course of this round of transformation and upgrading that China's manufacturing industry is undergoing, these foreign-funded enterprises are clearly ahead of others.

Analysts of the aforementioned equipment manufacturing industry stated that in the current context, the demand for high-end equipment industry is very strong because the rising cost of manufacturing is forcing enterprises to increase production efficiency, and the improvement of production efficiency first depends on more advanced production equipment. Many current core technologies in this area are still controlled by foreign companies.

Last year's "China's High-end Equipment Manufacturing Industry Development Report" showed that China's high-end equipment products have always been dominated by foreign companies. The core equipment and systems for offshore equipment mainly depend on imports. The high-end instrumentation market for sensors and other high-end equipment and instruments is mainly foreign-funded enterprises.

Taking the sensor as an example, in 2015, the global sensor market will reach 150 billion U.S. dollars, of which China is expected to reach 110 billion yuan, and foreign companies will occupy 67% of the market share.

In 2013, domestic industrial robots accounted for only 4% of their own brands, and wholly-owned and joint venture brands accounted for 96%.

Today, relying on China's own "Made in China 2025" strategic plan, in this new round of transformation and upgrading, will China be able to seize the opportunity, accurately grasp the direction, and embark on a new path? The future still has to be a concrete implementation road map.
Pneumatic Actuator is to covert the axial movement of piston to be 90 degree rotation of valve shaft.So that the valve can be open or close to achieve the requirement of control and open /close for the pipeline system.They have three type of actuator: normally open (NO),normally closed (NC),air/air(A/A)

Material:Steel parts: stainless steel 304,stainless steel 316L
Seal:silicone(VMQ) ,Fluoroelastomer(FPM), EPDM
Standard Design: Various standards of valves can be provided to clients
Standard of valve: DIN/SMS/3A/ISO/IDF
Size: DN25-150&1"-6",larger size can be customized
Medium: Beer, Dairy, Beverage, Pharmacy etc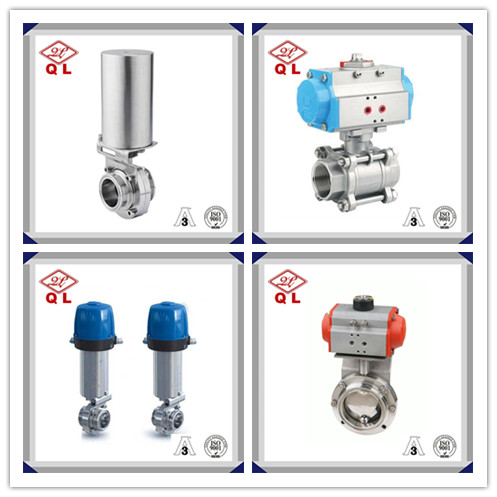 FAQ:
1.Are you a trader or manufactor?
We are a manufactor (Own Forging workshop and CNC machining workshop )

2.Can your products reach to FDA , CE and 3A requirements?
Yes, all of our material can reach to the requirements of FDA, ISO and 3A Certificate).

3.We can supply:
Sanitary Butterfly Valve, Sanitary Check Valve and Diaphragm Valves, as well as Various Tank Accessories: Sight Glass, Strainers/Filter, Cleaning Ball, And other Pipe Fittings , (Pipe Unions: SMS, DIN, IDF, RJT, 3A,DS; Fittings: Ferrule,Elbow, Tee, Reducer and all other Non-standrad fittings), each products are tested well by our strictly Quality Control System, and we also have excellent service to support you and promote your business.

4.Lead Time:
For large quantity, as usual, it can be sent out within 20-40 days.
Small parcel will be dispatched by DHL, FedEx, UPS OR TNT Courier.
Big cargo will be delivered by Air freight or By Sea.

5.Our Service:
About payment:
Payment methods: L/C, T/ T, Paypal,Western Union

6.About samples:
We can provide samples production and service. Usually 2 to 5 days, the sample can be sent to your hands. We will choose the shipping way as you required: By sea, by air or by express. Any question about samples, please contact us.

7.For OEM products:
We will finish the production within 20-40 days after payment has been confirmed.
About delivery and shipping:
We will choose the delivery way as you required: By sea, by air, by express ect. Save your cost is our mission.

8.Warranty:
Any question or problem will be respond within 12 hours.

9.Lifetime service:
Any problem happened to our product, we will do our best to help client to solve it, spare parts will be half price in lifetime.

10.Problem solve:
If you can't solve the problem in your local, please delivery the product to us, we will repair it and then back to you.

11.Quality control:
All the products are calibrated with real working condition, and tested before shipping as qualified product.

12.Purpose:Attitude is everything.
Pneumatic Actuator,Rotary Actuator,Pneumatic Valve,Pneumatic Butterfly Valve
Wenzhou Qili Fluid Equipment Co., Ltd. , http://www.qlssvalve.com