Frothing problems refer to uneven fluctuations, springs, or mud spills, which mainly occur in seasonally frozen regions such as northeast, north, northwest, and southwest China. The occurrence of tumbling on the highway will not only damage the road surface, but will also hinder traffic interruption when the traffic volume is large, and it will be detrimental to the national economy and national defense readiness. The problem of tumbling and the climate have a direct impact, and how to conserve roads during the four seasons becomes an exploratory course.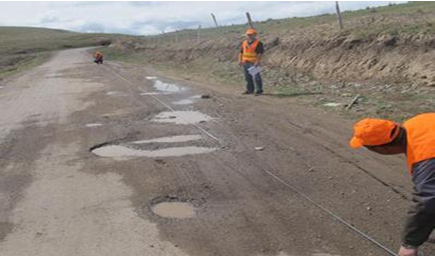 First, spring maintenance
The spring is a period of high incidence of road surface tumbling, and the weather is gradually warming. The spring-melting period will lead to a sharp decrease in the strength of the soil base, and the appearance of wet, loose, spots, and cracks on the road surface. At this time, it means that the warning light is on and the road surface begins to have problems with slushing.
Second, summer maintenance
In the summer, it is the best time for recovering the slurry. At this time, the content of maintenance is the repair of the road surface. Effective measures are taken to solve this problem thoroughly on the roadbed and road surface that are destroyed by the slurry. First of all, it is necessary to find out the cause of the tumbling, analyze the length and causes of the damaged road sections, and find appropriate remedies for the right medicines.
Third, the autumn maintenance
Autumn is the period of frequent rain, during which time the roadbed moisture accumulates. The focus of conservation is on drainage, to prevent moisture from entering the roadbed as much as possible, and to keep the roadbed dry for a long period of time. Relevant personnel should promptly repair road shoulders, road surfaces and slopes. The road surface should be maintained with good road arches and flatness. Any problems such as cracks, looseness, and pits should be treated in a timely manner to avoid water accumulation. In addition, the drainage facilities on the ground must also focus on prosecution to ensure smooth drainage and groundwater can be eliminated in time.
Fourth, winter maintenance
The focus of winter conservation is to take measures to reduce the degree of subgrade water accumulation under the temperature difference. In the winter in northern China, heavy snow often occurs. Workers should clear the snow on the thawed sections to avoid exacerbating the degree of frost on the road surface. And often need to go to the road inspection, found that cracks, pits, etc. to be repaired in time, melt snow water should be promptly removed.
If the four seasons focus on conservation and prevention, the economic losses caused by road problems can be greatly reduced, and at the same time it can be a good solution to the problem of roadbed thawing.
HARD TO FIND VALEO ALTERNATORS? JUST USE OUR SEARCH ENGINE AND YOU'LL GET THE RIGHT PART FOR THE RIGHT PRICE.
ALTERNATOR IS DEFECTIVE, SPARE PARTS NEEDED?
HERE YOU WILL FIND INSTRUCTIONS FOR TESTING AND REPAIRING IT !
WE HAVE THE RIGHT Alternator Parts AND INSTRUCTIONS
FOR, E. G., BOSCH, VALEO, DENSO, DELCO AND HITACHI ALTERNATORS
Valeo Alternator Katalog,Valeo Alternator Catalogue,Valeo Alternator,Valeo Alternator Brushes
Ningbo zhongwang auto fittings co.,ltd , https://www.zowoparts.com