On November 18, 2016, the first National Intelligent Manufacturing (Made in China 2025) Innovation and Entrepreneurship Contest was successfully held in Haidian District, Beijing.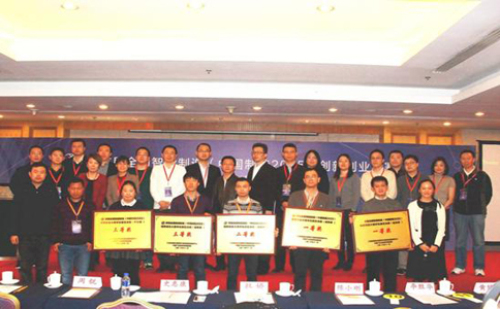 On November 18, 2016, the first China Intelligent Manufacturing (Made in China 2025) Innovation and Entrepreneurship Contest was successfully held in Haidian District, Beijing.

The competition was scored on the spot by 20 expert judges and focused on discussion after the meeting. The top three of the entrepreneurial and innovation competitions were born. The Innovation Games were ranked first, second and third respectively by the distributed smart microgrid hub distribution control system, face recognition intelligence hardware and octave sunlight three projects. The Entrepreneurship Competition was one, two, and three from the BioRFTM bio-data chip and cardiovascular health applications, multi-domain self-powered systems and applications, and the JFH102 smart health monitoring module.

The contest invited all leaders to participate and give speeches. Shi Huikang, deputy director of the Informatization and Software Services Division of the Ministry of Industry and Information Technology, introduced the development and changes of the information and software services industry division and the significance of holding this competition: through innovative technology products and business models, talents and capital. The combination of incubating valuable projects and building a platform for innovation and entrepreneurship. He expressed the hope that through the combination of software and hardware, it will form a top-down, vigorously-developing drive, promote the integration of manufacturing and the Internet, and promote better manufacturing development.

Du Jiao, Director of Science and Technology Development Division, Software and Integrated Circuit Promotion Center, Ministry of Industry and Information Technology, introduced the main responsibilities of the Software and Integrated Circuit Promotion Center of the Ministry of Industry and Information Technology: Promote the national basic information industry, support the development of back-end applications, and promote industrial information. Deep integration, through the holding of the double-big competition to help traditional companies find outstanding technologies and teams in the process of intelligent transformation and upgrading, and build a unicorn space platform, to discover investment projects with investment value and promising industries, and to build up investment institutions and local governments. A bridge between industrial organizations and real companies.

Liang Aimin, deputy director of the Science and Technology Development Department of the Zhongguancun Science Park Management Committee, said that with the introduction of intelligence and information technology into the industry, life will be even better. Haidian has intelligent manufacturing of genetics, talent space, and policy space. The spirit of smart manufacturing can be further promoted in Haidian District, Beijing, and universities, research institutions, and enterprises can carry forward the smart manufacturing in Haidian District on the basis of physical manufacturing.

The organizer, Chen Xiaogang, general manager of the automotive division of Suzhou Bozhong Precision Technology Co., Ltd. briefly introduced the company's products, services and R&D capabilities, and promised to cooperate with the organizer in the new competition form to create innovative products for smart manufacturing. , and the most representative and most promising investment in smart manufacturing ventures, and in the end he wished all the participants to achieve outstanding results and achieve fruitful results.

The competition is divided into entrepreneurship and innovation, taking the "8+7" road show mode (8-minute project introduction, 7-minute questioning), and the lottery determines the order of the game. The participating teams demonstrated their entry projects from the dimensions of technical products, business value, market potential, team ability and financial analysis through PPT, video and live demonstrations, and asked questions from the judges on the spot to obtain support from the judges. The on-site professional judging panel came from public companies such as listed companies, chip factories, investment institutions, professional media, technical experts, research institutes, etc., and made comprehensive comments and discussions on the participating projects.

The finals of the North China Division of the National Intelligent Manufacturing Innovation and Entrepreneurship Competition were jointly sponsored by Haidian Management Committee of Zhongguancun Science Park, jointly organized by Suzhou Bozhong Precision Technology Co., Ltd. and Beijing Versace Technology Co., Ltd., Guangzhou Jizhiyun IoT Technology Co., Ltd., and China Electronics Industry Science and Technology. The center is co-organized by the exchange center. The registration projects cover many excellent projects that closely follow China's manufacturing guidelines of 2025, such as artificial intelligence and robotics, Internet of Things big data and cloud computing, operating systems and industrial software, and high-end numerical control equipment.

In addition to winning cash prizes and directly entering the finals, the winning teams in the sub-district will also display their "Unicorn Project Space" initiated by the Software and IC Promotion Center of the Ministry of Industry and Information Technology. "Unicorn Project Space" For outstanding projects, we will provide business services such as financing and landings for docked investment institutions and local governments. The finals of the contest will be held in Beijing in December.
STONE WORKING Cnc Router
This cnc router is designed for stone working, could cut, engrave and drill on marble, granite, travertine, limestone, onyx, soapstone, slate, quartzite etc, suitable for fireplace, countertop, sink, desk in kitchen, bathroom, residential, hotel, office building etc.
Advantages of Stone Cnc Router:

Three axises adopt imported linear orbit, two line sliding track, heavy loading, stable working, high precision, longlife time.

Whole seamless weld steel structure, wheels on cnc router table, not easy to distort, the table back lining is armor plate, good rigidity, the machine can bear 1 MT at least.

Constant power spindle and motor, strong cutting capacity, high efficiency,Well compatibility, compatible software CAD/CAM, such as Type3, Artcam, Castmate, Wentai, CorelDraw.
Product Application:
1. Suitable for natural marble, granite, bluestone, sandstone, artificial stone, tombstone, milestone, ceramic tile, jade, crystal, ceramics, glass, plastic, wood, bamboo, cambered surface, sphere, stainless steel, iron, copper, aluminum, titanium alloy, can doing 3D embossment, and line engraving, beveling, drilling 2D engraving.
2. Such as granite stone can be layered engraving to 3mm.
3. Marble, bluestone can be engraving to 3mm on time.
4. Engraving characters, letters, pattern, intaglio, rilievi, handwriting, ancient calligraphy, abraziune colored drawing, flat carving colored drawing, etc. on stone, glass, depth can control optionally, to reach the artistic effect.
Main Features:
★ Heavy duty Machine structure, good weight bearing capacity, not easy to deformation, the special machine bed design, can bearing more than 2000kgs materials.
★ The special designed Zaxis, can increase the stone relief accuracy, can solve the Zaxis belt or ball screw breaking problem thoroughly.
★ The water proof and dust proof system for X Y Zaxis, can protect all the parts, reduce the machine fault, enlarge the life time.
★ High-performance driven motor to ensure that the machines high speed and accuracy.
★ Using well-known domestic brands of water-cooled brushless spindle, low noise, strong cutting ability, to ensure the long time working.
★ Easy to use Mach 3 controller works with all industry standard CAD/CAM software(optional, Nc-studio, DSP controller)
★ High grade Hiwin square rail
★ XY axis German helical rack and pinion
★ Z axis high precision TBI ball screw
★ 900*1500mm, 1300*1800mm, 1300*2500mm, 1500*3000mm,1800*2500mm standard sizes (Special sizes available upon request.)
★ 1 spindle, 2 spindles or 3 spindles available upon request.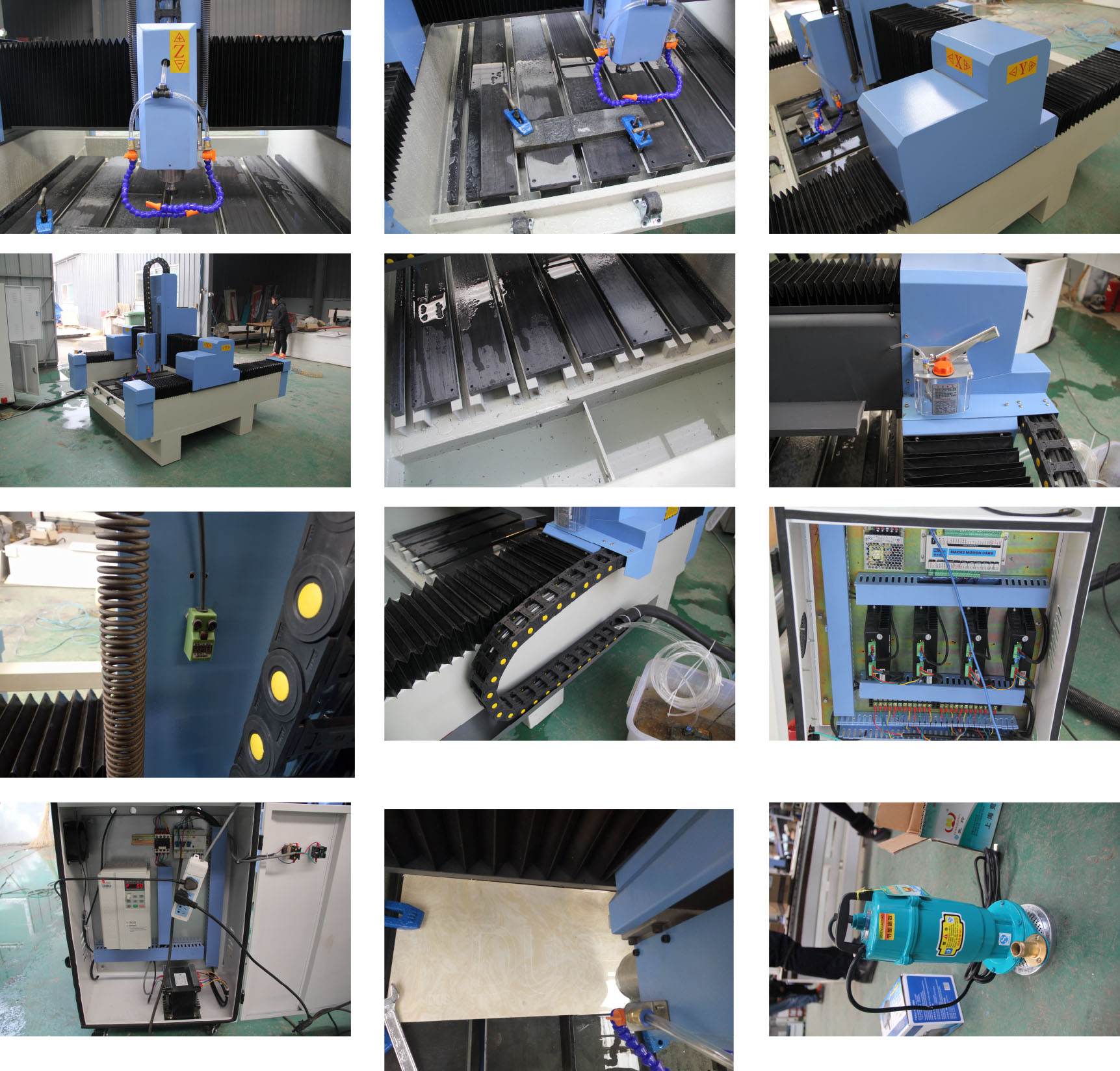 Technical parameters:
| | |
| --- | --- |
| Items | Parameters |
| Working area(mm) | 1300*2500*200mm/1200*1200mm, etc. |
| Table Structure | T-slot table |
| Transmission system | X,Y axis Gear Rack transmission,z axis Ballscrew from Taiwan but with German technology |
| Lead rail system | Linear round guide rail |
| Spindle power | 5.5 kw Water-cooling ,3.175/4/6/12.7mm |
| spindle speed | 0-24000 rpm |
| Motor | stepper(Panasonic/Yaskawa optional) |
| Drive | stepper(Panasonic/Yaskawa/hybrid optional) |
| Dust collector system | For your option |
| Inverter | 7.5kw Fuling inverter |
| Software environmant | Windows 98/2000/XP |
| Control System | DSP A11/Mach3/Nc-studio controller |
| Compatible file formats | G code; *.u00 ; *.mmg ; *.plt . |
| Compatible CAD/CAM Softwares | Ucancam V8 / Type3 / Artcam / |
| Working Voltage | AC380V,3ph, 50Hz |
| Precision | 0.005mm |
| Max speed | 26.0m/min |
| Max engraving speed | 18.0m/min |
| Max feeding height | 200mm |
| Work-holding devices | by fixture |
| Interface type | USB |
| Warranty guarantee | One-year after-sale services |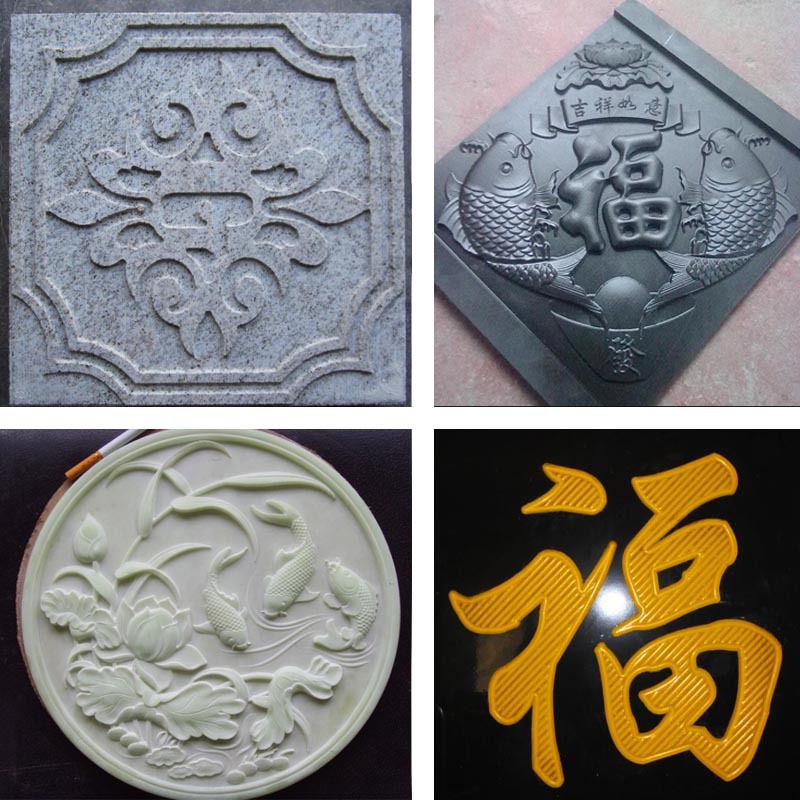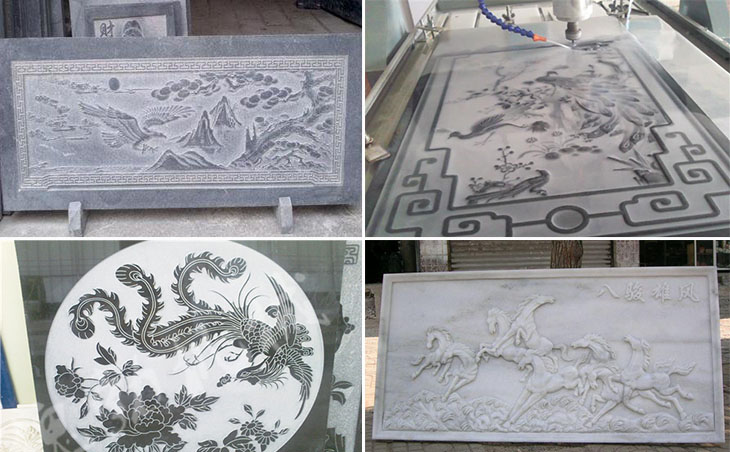 Professional Stone Cnc Router,Stone Cnc Router,Stone Engraving Machine,Stone Engraving Equipment
Shandong U-May CNC Technology Co., Ltd. , https://www.sesamecnc.com