Shopping malls such as battlefields, fighter planes fleeting, business opportunities are no exception. In this period, the winner and the loser often thinks that between the two, no one will dare to neglect any of them. All need to follow the market with the "machine" strain. As a result, when a sub-sector has seen sales decline for 15 consecutive months, most people will have reservations about their prospects.
Such a market segment is precisely the Chinese natural gas heavy truck market: Last year, its production and sales declined in successive months, and the highest drop in output was over 90%, indicating that this sub-sector, which was originally favored by the government and the market, entered an extraordinary period. However, the more this time, the more often the masters become more assertive and cautious. Therefore, we have seen that Exxon Mobil continues to be optimistic about the prospects of these segmented markets, and introduced new natural gas engine lubricants , which can be described as "not an unusual road". However, the fact finally proved Exxon Mobil's unique vision. In the first half of this year, natural gas heavy trucks have quietly completed the "proportional increase" in production and sales volume, which also inspired Exxon Mobil to work harder and focus on the related lubricants market.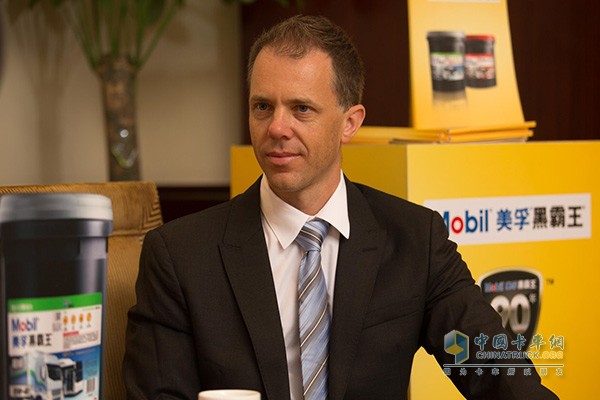 Mike-Smith, Global Brand Manager, ExxonMobil Commercial Vehicle Lubricants
According to Mike Smith, global brand manager of ExxonMobil Commercial Vehicle Lubricants, natural gas is a top priority in the global energy market. For natural gas vehicles, ExxonMobil will continue to improve the lubrication of key components such as engines. Users bring superior product and service experience.
Why natural gas?
The energy crisis is the biggest problem facing humanity in the 21st century. However, Exxon Mobil never described the world's energy use pattern as a "crisis", but rather used a positive attitude and a long-term perspective to view changes in energy demand and consumption.
According to ExxonMobil's 2016 version of the 2040 Energy Outlook Report released earlier this year, the global energy demand will increase by 25% from 2014 to 2040 driven by population growth and economic development. Among them, by increasing energy efficiency and using more energy such as natural gas, it will help reduce carbon concentration by half, and natural gas demand will also increase by 50%. By 2040, of all types of energy, oil is still the largest fuel, and natural gas will be the second largest.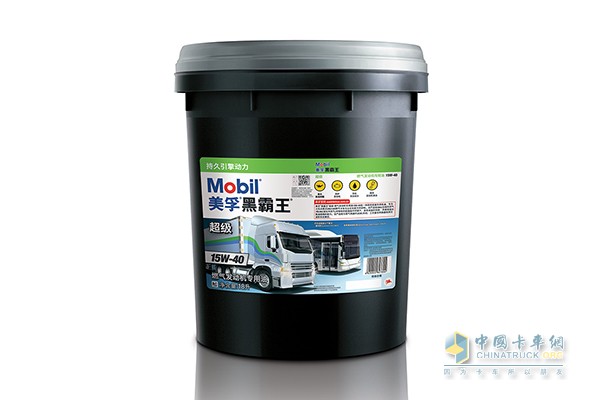 Mobil Blackhead Super Gas Engine Oil 15W-40
Obviously, the widespread application of natural gas is the trend of the times, and will also be "staged" gradually throughout the world. In particular, the future of natural gas is destined to be bullish as prices are lowered and clean advantages such as relative coal and energy are highlighted. Moreover, from the current situation, natural gas applications are increasingly common, whether it is industrial power generation or transportation. For vehicles such as buses and taxis, heavy vehicles and light trucks have increasingly used natural gas as fuel.
In fact, all types of vehicles powered by natural gas are particularly suitable for intra-city operations. About 150,000 natural gas vehicles in the United States currently run on the road, and the number of such vehicles in the world has reached about 20 million. However, there are indeed many challenges that need to be addressed in the automotive sector where gasoline and diesel are used as fuels, especially in heavy trucks, to promote natural gas as a fuel. Mr. Mike Smith summarized this in two ways:
First of all, the use of natural gas as a fuel combustion engine combustion method is different, related to the combustion temperature, combustion by-products and engine oil differences, it must be on the resulting impact on vehicle life and change the oil cycle to ease; Second, compared The habit of using gasoline and diesel, and using natural gas as a fuel for business users, as well as for individual users, have to adapt slowly and accustomed to the different modes of vehicle operation brought about by the "new fuel".
Of course, despite the challenges, there are still many opportunities. In the promotion and application of natural gas models, ExxonMobil believes that natural gas is still unique, which makes people more certain that the opportunities behind natural gas models are indispensable. According to the "World Energy Development Report" issued by the Energy Security Research Center of the Chinese Academy of Social Sciences, the proven reserves of natural gas in the world is 189 trillion cubic meters, and the annual extraction volume is 3.67 trillion cubic meters. No need to worry about resource constraints.
It is also because the supply is greater than necessary, although the growth rate of consumption has picked up, natural gas prices are still falling. When energy equivalents and gasoline and diesel prices are not significantly lowered, natural gas will be more attractive as a vehicle fuel. In addition, as one of the main sources of energy with the least carbon content, natural gas emits 60% less CO2 than coal when it is used for power generation. 5. With more and more emphasis on green development today, low-carbon and environmentally-friendly features are prominent, and governments will also issue more incentives. policy.
Moreover, purely electric cars are concerned about only low-carbon environmental protection, but natural gas vehicles are more suitable for users who need high cruising range, and LNG is particularly suitable for vehicles that require long-distance driving. At the same time, natural gas storage technology has been continuously improved, and the technology and safety of compressed natural gas storage tanks have been significantly improved. This brings enough power to mechanical operators in various fields, and also makes the use of natural gas vehicles in the field of logistics more convenient and safe.
In addition, major equipment manufacturers are also very concerned about natural gas as a fuel product, such as Cummins has natural gas engine products, Scania and other heavy commercial vehicle manufacturers and some light vehicle manufacturers have also launched natural gas models. Especially for some small vehicles, the trend of modification has become more and more obvious. Changing the models of gasoline and diesel into economical, safe and reliable natural gas vehicles is changing from a few to a majority, which will also make the market for natural gas vehicles more and more scalable. .
What is worth mentioning most is that, for vehicle operating costs, the expenditure on fuel costs has always been highly valued by logistics fleets and individual vehicle owners. Natural gas has less volatility, which can largely reduce the user's overall maintenance costs and fuel expenses. After all, when the price of oil is low, users can't always be fully aware of the natural gas model. But once the price of oil is high, anyone will be more realistic about the cost of fuel.
Why is the Chinese market?
Over the past 30 years of reform and opening up, China's economy has witnessed rapid development. The world has witnessed China's speed, and it has also enabled more international companies to start cultivating and intensively developing in the Chinese market. In the face of the big cake in the Chinese market, if you do not scramble it, you will really have OUT. When talking about Exxon Mobil, its fate with China is even deeper. After its founding in 1882, it brought a "Foo Fung Lamp" to Chinese users at the end of the 19th century, improving the lighting conditions of thousands of households.
It is not an exaggeration to say that Exxon Mobil was one of the witnesses of China's 100-year development. Whether it is the lubricating oil product for diesel engines, Mobil Blackhead, or the exclusive oil product developed for natural gas engines, it is very popular in China. In the long-term strategic concept of Exxon Mobil, China has always been an indispensable and important market, and its importance in the future is self-evident. This will be known from the fact that the Asia-Pacific Lubrication Technology Center will be located in Shanghai, Taicang and Tianjin.
Today, Exxon Mobil is always optimistic about the application prospects of natural gas vehicles, especially natural gas heavy trucks in the Chinese market. Mr. Mike Smith asked the reporter: "The total natural gas resources in China are 38 trillion cubic meters. The final proven natural gas geological reserves are about 13.2 trillion cubic meters. The total amount of resources ranks 10th in the world and 2% in the world. With such ample reserves, who can't be optimistic about its development in China?"6
In fact, the media has recently exploded and the "13th Five-Year" energy plan will be released in the near future. Regarding the natural gas part, the industry believes it will be a major focus. The increasing trend of natural gas applications will also slowly appear in the country. Under the guidance of the concept of green development, all provinces and cities in China are stepping up efforts to promote related work. The use of natural gas as an environmentally friendly energy source in the automotive field is naturally one of the important ways in which all regions can achieve green development.
Moreover, relevant experts also predict that in the next 20 to 30 years, China's urbanization rate should still increase by more than 20 percentage points, involving more than 200 million people. After this part of the population enters the town, consumption will increase by about 30%7, which will also benefit the application of natural gas vehicles. With the acceleration of urbanization in China, the demand for vehicles in logistics and other fields is also increasing. There is an urgent need to solve the problem of energy saving and emission reduction behind these requirements. Heavy trucks or light trucks that use more natural gas as fuel will be able to do more with less.
Simply speaking, based on the above-mentioned slow release of user needs, the construction of infrastructure such as gas stations will speed up, which in turn will promote the popularization and application of natural gas vehicles. Manufacturers of equipment, including manufacturers of heavy-duty commercial vehicles, will also foresee the growing popularity of natural gas vehicles. In addition, the investment in R&D, promotion and service of Chinese auto companies will be even greater, which will promote the products closer to users.
More importantly, companies like Exxon Mobil that provide lubrication solutions for natural gas vehicles will provide positive reinforcement. Their participation will change people's habits of using cars more quickly and make the advantages of natural gas vehicles more obvious. As a result, Exxon Mobil is optimistic about the development of the Chinese market, and is confident that it can stand on the perspective of lubricant suppliers and use its own technical expertise to accompany and support China's economic development and transformation.
At the same time, it must be said that as the world's largest developing country, the purification of China's own environment is also an important contribution to the improvement of the world's climate and environment. As a green energy source, natural gas can be widely used in China and is a world expectation for China. At present, relevant statistics show that there are hundreds of cities in China that are using natural gas vehicles, such as in the public transport field, in taxis, and in engineering dumping and logistics transportation.
Moreover, it should be noted that there are more than 1,000 gas stations dedicated to compressed natural gas (CNG)/liquefied natural gas (LNG) in China. In Chongqing, 85% of taxis and 92% of buses are equipped with LNG engines. 8, the completeness of its gas station facilities is also evident. In addition, the data also shows that the number of natural gas vehicles in China has reached 5 million, of which about 2/39 of the operating vehicles. There are even predictions that by 2020, natural gas heavy trucks will account for half of the total sales of heavy trucks and become the leading model10.
Although, in terms of current market performance, whether natural gas heavy trucks can become the leading model as they are expected to be can not give a final conclusion. However, it can be imagined that the development of its development is doomed to be worthy of recognition and high hopes. As China's economy is now in a new normal, it is changing its way and adjusting its structure, and it is advocating that all industries actively carry out supply-side reforms. The promotion and application of natural gas vehicles is just right.
Why Exxon Mobil?
The international lubricants giant that has been deeply deployed in the Chinese market is certainly not the Exxon Mobil family. So, why is it that self-confidence will be the first choice for natural gas engine lubricants? In this regard, Mr. Mike Smith has something to say. Originally, Exxon Mobil has a long history of more than 50 years in the development of natural gas engine oils. With a wealth of application experience and leading expertise, Mobil is confident in the quality of its products.
When it comes to Exxon Mobil's special lubricants for natural gas engines, it has been listed for 20 years. The key recommendation today is the Mobil Blackhead Super Gas Engine Oil 15W-40.
The product focuses on protecting the engines of heavy trucks, buses and other vehicles fueled by compressed natural gas (CNG) and liquefied natural gas (LNG), and can provide a fully innovative lubricant solution for fleets and individual users equipped with gas engines. It first has enhanced corrosion protection performance, provides corrosion protection for key components, and minimizes the internal corrosion of CNG/LNG engines.
Second, the lubricant has advanced mechanical wear resistance, and has excellent tappet and liner wear resistance in CNG/LNG spark ignition engines. And, this oil can also extend the interval between oil changes, even if there is higher CNG/LNG combustion stress, it can still achieve a longer oil change interval.
Most notable is the potential cleaning performance of this lubricant, which shows excellent engine cleanliness, high sludge control, fewer valves and piston deposits in both field and engine tests. In short, the many highlights of the Mobil Black Diva super gas engine oil 15W-40 are all in line with the lubrication needs of medium and heavy gas engine vehicles on the market.
For users, the use of the Mobil Blackhead super gas engine oil 15W-40 will enable the specially designed engine to operate safely under stable and clean conditions, with exhaust gas recirculation (EGR) system, three-way catalyst and other emission reductions. The system is easily compatible. At present, Exxon Mobil has gradually ordered 208 liters and 18 liters of Mobil Blackburn super gas engine oil 15W-40 for Chinese distributors and partners.
In addition, under the efforts of some local distributors, bus fleets in some cities such as Guangdong and Xinjiang have already reached a trial intention for this product. Next, Exxon Mobil will gradually promote this product nationwide. ExxonMobil is also convinced that the promotion of natural gas vehicles in China depends on government policies, and users have low awareness of natural gas vehicles. This will require companies such as lubricants to improve the application of popular products. More work.
According to specific cases, ExxonMobil has helped the U.S. leisure food giant Philip Poly to optimize its lubrication program: Under natural conditions of cold, heat, drought, tide, etc., 22 natural gas vehicles will travel over 2 million kilometers, and the oil change cycle will reach 80,000 kilometers or more. In addition, this oil has passed the latest CES 20085 standard issued by Cummins Engine Co., Ltd. for gas engines, which proves that it is widely recognized in overseas markets.
In China, Mobil has reached a series of natural gas vehicle product trial cooperation with FAW Jiefang. Mobil provides Mobil Blackhead's gas products for the 6 natural gas engine 6SL/6SM/6SF series that FAW has liberated, and conducts various test methods such as road tests and limit experiments. At present, the oil mileage figures are still being monitored.
During the same period, a heavy truck of China National Heavy Duty Truck C7H successfully completed 1 million kilometers of operating mileage within 26 months, which is a miracle in domestic trucks. Although it does not match the natural gas engine, this amazing number still reflects the excellent quality of Mobil lubricants.
ExxonMobil hopes to use these successful cases to explain and communicate more about the features and benefits of its products. It also promotes products and sharing through online social channels such as WeChat, Weibo and other national road shows and seminars. information. ExxonMobil believes that it is necessary to maintain communication with opinion leaders such as senior customers, industry-related personnel, and professional mechanics. Their trucks are knowledgeable, understand the changes in technology trends, have a greater impact on end users, and are also conducive to new product promotion.
In the future, ExxonMobil has a distribution service network throughout China and sales and engineering teams across the country help solve problems for users. These sales and service personnel have the same goals as ExxonMobil, which means that companies can continue to grow in the Chinese market and create the highest value for their customers. We also believe that when China's natural gas heavy truck and other auto markets are in the ascendant, Exxon Mobil will firmly seize the opportunity to bring first-class professional lubricant solutions to Chinese users who purchase natural gas vehicles.
Big Automatic Vacuum Forming Machine
Big Automatic Vacuum Forming Machine applications
Vacuum forming machine is suitable for material like PVC, PE, PET, PC, PP, PS, HIPS, APET, PETG, etc.
It can transform plastic sheets into various plastic Blisters / clamshells / Containers, It is widely used in toys, hardware, foods, stationery, cosmetic product, electronics products, etc.
Big automatic Vacuum Forming Machine features
1. High performance small motor drives heat furnace, fast and smooth.
2. Ceramic heating elements, control the temperature of each heating element separately, suitable for the product of complex structure.
3. The area of lower mould is closed, blowing after the material being heated and soft which can avoid material sinking, can insure the uniform thickness of finished good.
4. Lower mould is driven by big cylinder, rack positioning can insure running smoothly.
5. Large air cooling motor which can insure finished good rapid cooling.
6. Equipped with water cooling system, can further rapid cooling.
7. Double-furnace(optional), can heat the material on two surfaces, especially suitable for thick material(5-10mm).
Big automatic vacuum forming machine parameters
Model

HX-71S

Power supply

AC380 50/60HZ

Power

Power

Max. forming length

610mm

these size can be changed according to customer require

Max. forming width

610mm

Max. forming height

150mm

Material thickness

1.0-5.0mm

Output

100-200moulds/H

Machine size

2700*1400 *2000mm

Net weight

2500KG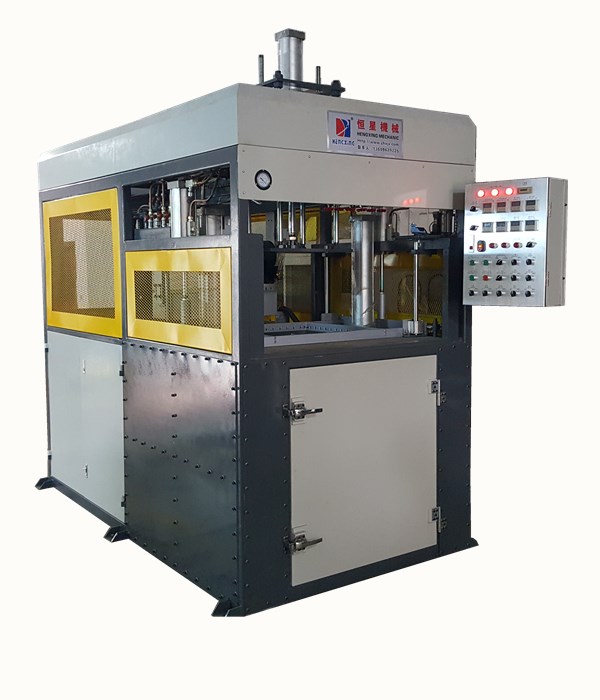 Big Automatic Vacuum Forming Machine
Big Automatic Vacuum Forming Machine,Big Automatic Plastic Vacuum Forming Machine,Automatic Sheet Vacuum Forming Machine,Thick Material Blister Vacuum Forming Machine
ShenZhen Hengxing Machinery Factory , http://www.szchxjx.com